It all started with our wedding on the first of July 2017.
Because of the magic of those moments, the happiness that invaded us and all the memories that remained.
One day, looking back at our album, Eulàlia asked me if I would have liked to be the one behind the camera at our wedding, …or at others.
So started to germinate the idea of shooting weddings.
She's truly passionate about the marriage world. It's so great to be able to live and share these days with the couples trough our cameras, reflecting these unique moments in life-lasting memories.
Mirall de llum is born thanks to her, for her constant support and help in this adventure.
Eulàlia & Thierry Mirall de llum's first couple, it's us.
I'm the daughter of a doctor that was very fond of photography and the winner of several national and international contests.
I grew up surrounded by this world.
I studied two artistic careers: classical dance and lyric singing. Finally, I worked professionally as an opera singer for 18 years; which has given me a huge sensitivity and experience in body and emotional expression, being a great help when working with couples. I like elegance, simplicity, delicacy, and warmth in wedding photos. I always try to have a sensitive and friendly manner with the couple and live their emotion as if it were mine to later reflect it in my photographic work.

In conclusion, I adore love and everything that surrounds this unique and unrepeatable day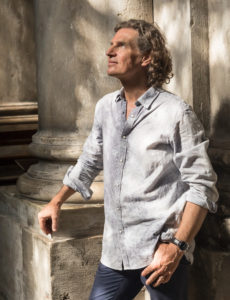 Since forever I carried the soul of a photographer, I took my first artistic photos at the age of fifteen, but it is only after a career of more than twenty years as Art Director in Advertising, having shared work with great photographers, that I became myself a professional photographer in 2004.
I don't think I ever took pictures by pure instinct.
Sometimes the images were composed in my head almost instantly when I looked through the lens, sometimes the imagination came first, and I used to draw some first sketch before the shooting.
By applying this vision to wedding photography I can capture the emotion and combine it with lighting and composition to convert an unforgettable moment into that image that deserves it.
My other specialities are  architectural photo -indoors and outdoors-, culinary photo and portraits.