Your wedding is going to be unique
Mirall de llum is here to turn it into an indelible memory.
Getting ready
The happiness that will invade you before the great moment and the precise dance of preparation of both, surrounded by your special people, are magic for our cameras.
The ceremony
This is the peak emotional moment at your wedding. Laughs, teardrops, heartfelt words, skin-deep emotions... every fraction of a second will be recorded forever and ever.
The dancing
At the sound of your music, you'll live the most endearing and spontaneous part of your wedding.
Our pictures will reveal refreshing and surprising things that happened.
Engagement session
There's always a special place for every couple. Where the first glance, the first kiss or the first dance took place. It's wonderful to come back time before the wedding and capture some nice pictures.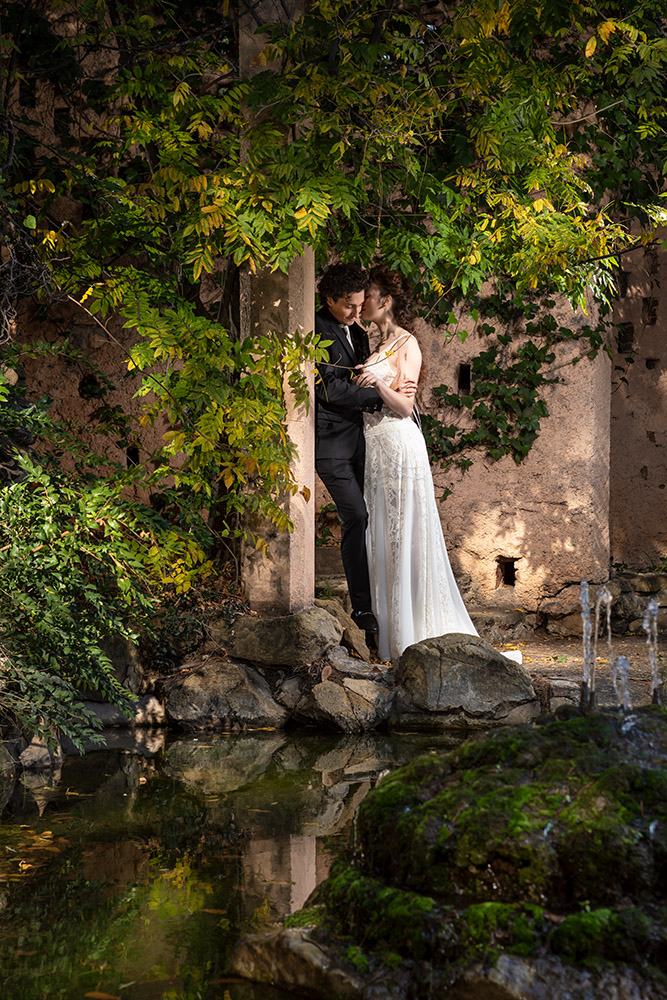 Post-wedding session
If you want to keep your wedding day to enjoy every second, but, at the same time, you'd like to have newlyweds breathtaking pictures, let's go some days later dressed as bride and groom again, to a special place for you -that castle, the seaside at sunset or this enchanted forest that inspires you- and let us create some poetry in images.
"There are two ways to spread light.
Be the lamp that emits it
or the mirror
that reflects it."

Lin Yutang (1895-1976)
Chinese writer and philologist.
    "Desde el minuto uno tuvieron una cercanía y un cariño que te envuelve. Son personas increíbles y que se nota que tienen experiencia y saben lo que hacen. Las fotos son una pasada, se estudiaron y visitaron el sitio donde queríamos ir, que eso nunca lo había visto antes. Las fotos son increíblemente preciosas y se adaptan a todo tipo sugerencias o ideas. Los recomiendo 100% porque son una pasada, el trabajo en equipo y encima bien hecho es difícil de encontrar"
"Nos casamos el día 15 de agosto de 2020 y fue, sin lugar a dudas, la mejor decisión que tomamos al trabajar con ellos, tanto Eulalia como Thierry son dos bellísimas personas y grandes profesionales. ¡Desde la preboda, la boda hasta la postboda! Te hacen sentir cómodos y ni siquiera te das cuenta de que están, que para nosotros era algo muy importante. Las fotos… Preciosas, incluso recibí mensajes de mis invitados preguntándome cómo podían haber captado tantos momentos robados, para mí y para mi marido. ¡Los mejores, sin duda! "
"Boda Covid Nuestra experiencia fue genial. Los dos son personas entregadas, profesionales y atentos a las adversidades. Eulàlia es la parte sensible y Thierry la parte más técnica. Juntos hacen un tándem magnífico."